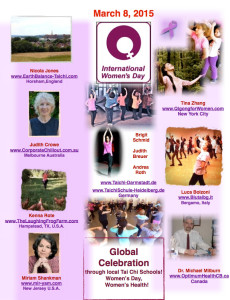 2015 International Women's Day Celebration
Join all Earth Qigong for Women students globally and help us celebrate together.  Coming to Horsham in spring-time with instructor Nicola, a morning of healthy and powerful movements focusing on the unique female anatomy. Calm the mind, strengthen the body and nourish through breath.  This set of movements helps build physical resilience, immunity and aids all body systems when practiced regularly.
This event is open to all women from the age of 18 years upwards.  Everyone is welcome to join us no matter age, fitness level or health.  All of the movements are non-impact and work to help nourish the joints and create a more flexible and mobile body.
| Details | Weekend Workshop |
| --- | --- |
| Content | Earth Qigong For Women |
| Time | 10.30am – 1.30pm |
| Date | Saturday 7 March 2015 (n.b. this is a different day to the global event on 8 March) |
| Level | All Women Welcome |
| Venue | Faygate Village Hall, Park Road, Faygate, Horsham |
| Advance Cost | £10 cash, bank transfer, Paypal with additional fee. Required at time of booking to secure place. |
| On the Day Cost | £15 cash only. |
| Event | This event is to celebrate 'Women's Day 2015' and is a subsidised workshop to raise awareness of female health and wellbeing in the UK.  In conjunction with Qigong for Women instructors globally and our teacher Tina Chunna Zhang in New York.* Typical cost of a 3 hour workshop £22.50 / £28.50. |
Terms: Our general terms and conditions when booking onto a workshop can be found here.

Bookings:  Are required in advance to secure a place. The payment is due at time of booking.