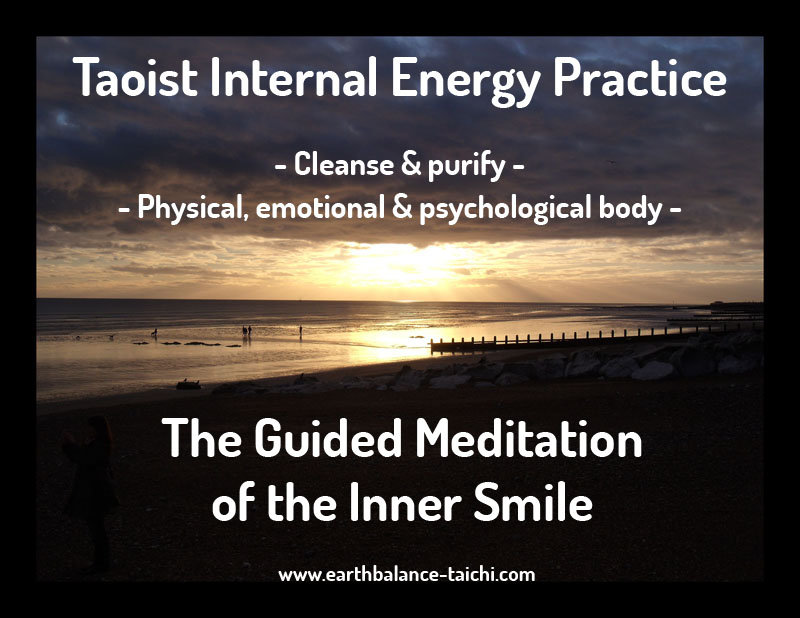 Learn the power of smiling inwardly
The Inner Smile meditation is a Taoist practice (passive Qigong) to help cleanse and purify the emotional, psychological and physical body.  We use a simple smile as a connection to inner healing for health, happiness and longevity. By focusing our smiling energy into the internal body we can learn how to:
Calm, level and balance the emotions
Regulate positive and negative emotions
Release tension and soften the internal body
Cleanse & purify the internal organs
Aid and cultivate inner Qi flow
This easy to follow set of audio meditation recordings will help you towards regular meditation practice, guiding you through step by step. Regular practice will help you level emotions, gain inner calm, learn to relax and reduce physical tension.  This download is suitable for complete beginners.
Download the Inner Smile meditation to practice at home.  Use over and over to help learn the meditation.  In-depth details on the Inner Smile meditation, noting the organs and associations can be found here.
Contents
1)         Preparation
2)        Smiling down the front line – organs and glands
3)        Smiling down the mid line – digestive system
4)        Smiling down the back line – brain and spinal cord
5)        Storing Qi in the Dantian
Extended Inner Smile Meditation
Duration: 36 minutes
File Size: 87MB
Short Inner Smile Meditation
Duration: 10 minutes
File Size: 10.5MB
Format: MP3
Accompanying Ebook
Pages:  20
File Size: 600KB
Format: .pdf
As of 2017 our guided meditations will only be available on our Etsy Store
COST £6 + VAT
 Please contact Nicola with any queries you may have
 Terms
It is not possible to upload the audio files to Etsy due to the size. The links to the files will be sent to you through the Etsy convo system with 24 hours.
Internet access is required to download all of the files.
Please ensure you have the correct software installed on your computer/device to read a .pdf file.
MAC formats are not supported.
The audio files are only provided in an MP3 format.
All download sales are final.
No physical products are part of this sale.
By downloading the Inner Smile Guided Meditation you agree to the following points:
I will consult with a health professional before commencing any internal qi gong work.
I accept full responsibility for my actions in applying the techniques and will use common sense at each stage, asking for professional advice, should I need it.