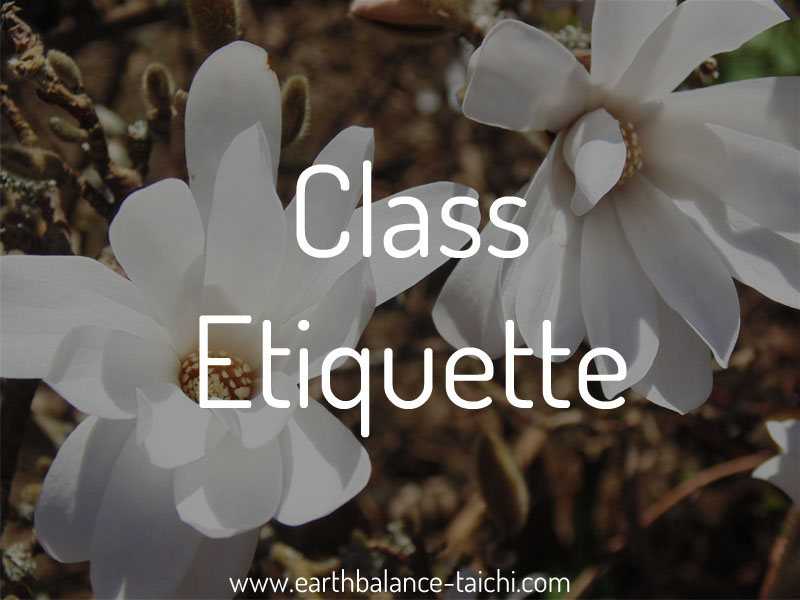 Class Etiquette
Before attending your first group Tai Chi and Qigong class, please read over the training guidelines for online and community class students of instructor Nicola of Earth Balance Tai Chi.
QUESTIONS
Your instructor is happy to answer any questions during class and if the answer is not known, we are always happy to find out for you.   It is the instructor's role to pass on information and training methods as clearly as possible. It is your role as a student to ask if you do not understand what is being shown or said. Please ask constructive questions and remain respectful of your fellow students and instructor.
Please always give immediate feedback to your instructor regarding posture and alignment, especially regarding your knees. When moving outside of correct alignment, there is potential to risk injury. We strive to guide you into a correct posture, and need your feedback should a movement not feel right.
To comment on the format or structure of your class, please speak to your instructor after the class has finished. We always welcome feedback and suggestions.
PERSONAL ETIQUETTE
Please treat all fellow students, visitors and instructors with courtesy, kindness, compassion and respect, regardless of experience, ability, age or gender.
Students should attend class with a willingness and eagerness to learn, an open mind and a warm heart. Leave the day at the hall door and enter as a 'blank slate', you will leave the class feeling refreshed, energised and grounded.
Our ethos is to follow the Taoist principles of kindness, modesty and non-judgement.
Before attending a class please read the article "blending to green".
CLASS FORMAT
Our classes aim to be informal, friendly and light-hearted, with a dose of good humour, shared laughter and enjoyment.
Studying Tai Chi and Qigong are a life-long path.  Over the classes, you will encounter the same principles and teachings over and over again.  Like the layers of an onion, you will learn more in-depth detail as you revisit previous lessons and add to your knowledge and experience. This is the natural path of learning. Tai Chi and Qigong are not arts where you collect forms or sets, it is the depth of learning that we focus on.  Please stay attentive during class; throughout your Tai Chi journey you will cover principles and techniques that are familiar, use this as a chance to see how you can improve on what you already know.
When given an exercise or movement to practice, to gain the most from your training please stay focused on your own learning. Please continue to practice repetitively until your instructor advises.
Be aware of what your instructor and fellow students are doing during the class, you may gain new insight about your own timing, technique or positioning.
Please be willing to help your fellow students when requested by your instructor.  You will learn and refine your skills and experience by helping others.
Your instructor will give hands-on corrections during a class, or use a student to help demonstrate a technique. Working in pairs may also be part of your training as you progress. If you would prefer to train without any physical contact, or if you have an injury which might restrict you, please advise your instructor ahead of class.
Regular practice between lessons will consolidate your understanding and is valuable experience.  The phrase "I do not want to practice at home in-case I get it wrong" does not apply to Tai Chi or Qigong.
Please contact your instructor if you have any questions or problems regarding your training.
Please also read over 'Struggle is Opportunity', 'It's not a Quick Fix', 'What is your Goal' and 'When the Resources aren't enough' to help understand our approach better.
Earth Balance Tai Chi reserves the right to expel students who undermine or devalue our school philosophy.
Many thanks for your co-operation.