Tai Chi for Heart Failure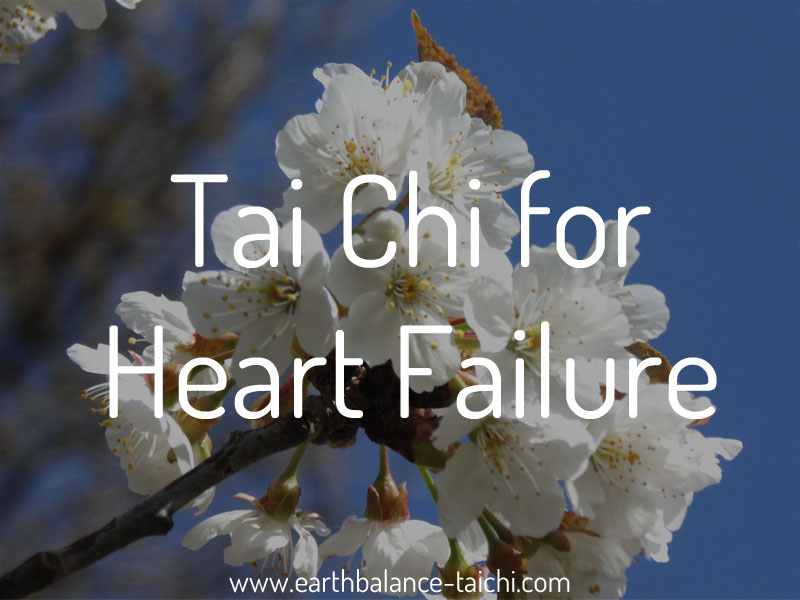 Tai Chi for Heart Failure
What is Heart Failure
Heart failure is a chronic condition. When the heart muscle becomes damaged it is unable to heal itself, this results in blood/oxygen not pumping around the body as well as it could do.  This creates stress on the body as it cannot function normally.
Possible Damage to the Heart
High blood pressure
Heart disease
Severe lung disease
Inflammation/infection of the heart muscle/valve
Heart attack
Congenital heart conditions
Uncontrolled diabetes
Slow, fast, irregular heart rhythm
Severe anemia
Hyperthyroidism
Alcohol, drugs, some prescription medicine
Symptoms of Heart Failure
Sleep problems
Breathlessness
Swollen feet/ankles/abdomen
Chronic fatigue or general tiredness
Nausea
Weight gain
Loss of appetite
Severe cases coughing up blood
Depression
Dizziness
Constipation
Life with Heart Failure
Reduce your salt intake
Eat a healthy and natural diet
Take regular exercise
Maintain a healthy weight
Avoid smoking, alcohol and drugs
How can Tai Chi and Qi Gong Help?
Helps improve heart health with regular exercise
Helps increase mood and emotional wellbeing
Aids relaxation and calms the mind
Helps reduce physical tension
Helps circulation, increase blood flow and transfer of oxygen to the cells in the body
Helps to lower blood pressure
Helps aid normal sleep patterns
Helps cardiac rehabilitation (improving physical activity, balance, and coordination)
Helps increase energy levels
Helps all body systems function to the best of their capability
Resources
Effects of Tai Chi on Symptoms of Depression and Fatigue in of Depression and Fatigue in Heart Failure Patients Heart Failure Patients.
Tai Chi can Treat Heart Failure.   The British Heart Foundation said the study was "excellent news" and Tai Chi could be adopted into treatment programmes in the UK in the future."
Chronic Heart Failure Patients Benefit From Tai Chi.  "At the end of the 12 weeks those in the Tai Chi group had significantly more improved quality of life compared to the education group, even though their change in six-minute walk distance and peak oxygen uptake were similar."
Tai Chi For Heart Health  "In the past, patients with systolic heart failure were considered too weak to exercise, and were even advised to avoid physical activity all together. Due to the nature of tai chi and its ability to decrease anxiety, improve mood and increase energy, this type of exercise has proven itself beneficial. It may also benefit people with other health conditions including hypertension, balance problems and inability to perform high-intensity exercise."
Tai Chi May Help Heart Failure Patients.   "Maintaining an exercise regimen is important in heart failure, and Tai chi may be a suitable alternative or adjunct exercise for these patients."
Tai chi and heart health in older people.   "The researchers say that the tai chi practitioners showed "better artery compliance" than the control group. "  and "A higher proportion of subjects in the control group had high blood pressure than in the tai chi group (61% versus 38%). On average, people in the control group also had significantly higher BMIs than the tai chi practitioners." And; "The researchers conclude that their findings suggest that tai chi could be a suitable exercise for older people who wish to improve both cardiovascular function and muscle strength."
* Please note that the Taoist practices are not a replacement for conventional medical treatment. Please speak with your doctor prior to starting a new exercise programme. This article is for information purposes only and must not be taken as medical advice. *