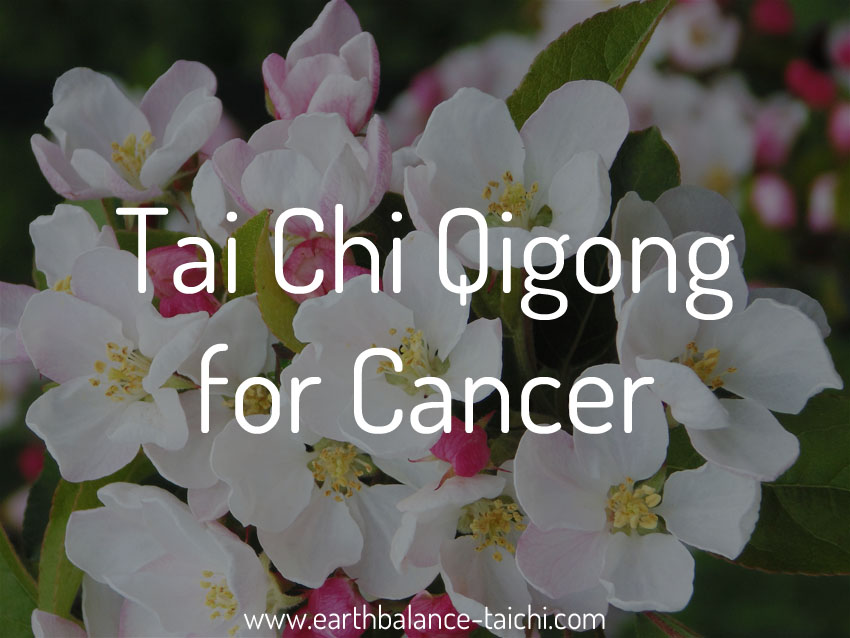 Tai Chi for Cancer
Over my years of teaching, I have had the honour of teaching many students who have cancer or are in recovery from cancer. Whether through private tuition in their own home, in my public community classes, teaching as a volunteer within cancer support groups, to teaching care-givers. Some of my students have very sadly passed away and some are in remission and living well.
Cancer is a growing disease that is affecting more and more people. Alongside hospital and medical treatments, there are natural ways to help support the mind, body and quality of life after a cancer diagnosis. This article will explore the question; how does Tai Chi, Qigong and meditation help people with cancer?
Tai Chi, Qigong and meditation can help support anyone of any age when they experience ill health, through sudden onset of a disease, the slow progression of disease, or congenital syndromes and injury. Each person experiences different benefits from their training, covering mental, emotional, psychological, physiological, anatomical and spiritual health. These practices can be effective tools that are part of your self-care management kit.
The Main Aspects of Tai Chi and Qigong
Focusing on moving the body slowly, deliberately and dynamically in the present moment - not thinking about the past or future. This is an effective method for grounding during stressful times.
Developing body sensitivity and awareness, a skill to listen to the body, to know your health baseline and to respond gracefully.
Learning about pain as a diagnostic. Working with your body as it changes, understanding how your body is responding and being compassionate with yourself.
Aligning the posture correctly to help foster all body systems to function better e.g. circulatory, endocrine, digestive, adrenal, skeletal etc.
Exercising the body with specific patterns of movement to help stimulate the lymph system to remove toxins from the body.
Nourishing the organs through expansion and compression movements that help bring nutrients into the organs, and also help dispel waste.
Breathing deeply and slowly over long periods helps relax the mind and body through the activation of the body's natural relaxation response. This in turn reduces feelings of anxiety and worry.
Diaphragmatic breathing also helps to strengthen the lungs, increase lung capacity, boost circulation and bring more oxygen to all body systems to function better.
Learning to truly relax the body, reducing physical tension, which in turns teaches us how to relax the mind.
The practices can be performed lying down, seated and standing, no matter what your physical baseline presents. This makes them accessible in times of ebb and flow.
Potential Health Benefits
Increased wellbeing. It is important when diagnosed with cancer to remain positive. Tai Chi and Qigong practice can help elevate mood and foster positive emotions.
Increase in mental clarity and a reduction in brain fog. People undergoing cancer treatment can experience mental fog, which hinders clear thought.
Increase in mental resilience and the ability to cope.
Relaxation and settling of the central nervous system.
Increase in self compassion.
The ability to learn pacing to avoid the boom and bust cycle and baseline training.
Activation of the relaxation response, reducing stress and helping level negative emotions.
Increased flexibility and mobility in the joints and soft tissue.
Increase in muscle strength, from low-impact exercise, aiding mobility.
Reduced risk of falling, improving physical grounding, balance and stability. This helps people who are left weak and fatigued from cancer treatment, or from the side effects of medication, or have developed neuropathy (de-sensitivity in the hands/feet/limbs).
A healthy distraction and productive way to manage chronic and acute pain. This is important for people with cancer who experience muscle, soft tissue and joint pain as they undergo treatment, undertake surgery, and for those in remission who have had major surgery, tumour and/or lymph node removal.
A way to help reduce fatigue and restore and support energy levels.
Improved sleep and a reduction in insomnia and interrupted sleep.
Increase of blood flow to stagnant areas of the body.
Removal of toxins through dynamic exercises. This is especially important when taking a lot of pharmaceuticals and undergoing cancer treatment such as chemotherapy.
Reduce over-thinking and cyclical thinking. Learning to become the observer, rather than being overwhelmed by thoughts and feelings.
Medical Research
In June 2021, a study was carried out in Canada to review the "therapeutic efficacy of Tai Chi across the cancer care continuum". Medical research databases were searched from inception to September 2020 for analysis. The findings reported that "benefits of 40– 60 min of thrice- weekly supervised Tai Chi training for 8– 12 weeks to improve fatigue and sleep quality in cancer survivors." The study also discussed in the conclusion that Tai Chi is a "viable exercise mode for cancer survivors, particularly during difficult cancer treatments and for those facing comorbidity challenges". DOI link: https://doi.org/10.1002/cam4.4273
In April 2020, a study was carried out in China to review the "impact on physical function and psychological well-being in breast cancer patients".  Medical research databases were searched from inception to December 2018 for "randomized clinical trials comparing Tai Chi with non-exercised therapy in breast cancer patients".  The findings reported that Tai Chi "had a significant effect on quality of life in breast cancer patients", "increased shoulder function", "improved pain", improved arm strength and a reduction in anxiety. The study also discussed in the conclusion that Tai Chi is "effective on some physical and psychological symptoms and improves the quality of life in patients with breast cancer". DOI link: https://doi.org/10.3389/fonc.2020.00607
In January 2013, a study was carried out in China to evaluate "the efficacy of a qigong intervention on the quality of life in women with breast cancer during and after radiotherapy treatment". The findings reported that "women in the qigong group reported less depressive symptoms", and "women who had elevated depressive symptoms at the start of radiotherapy reported less fatigue and better overall quality of life". DOI link: https://doi.org/10.1002/cncr.27904
In June 2012, a study was carried out in the USA to review "the effects of medical Qigong on cognitive function, quality of life, and inflammation in cancer patients." The findings reported that medical Qigong "significantly improved cognitive function", "significantly improved quality of life", with a reduction in "C-reactive protein levels (inflammation biomarker).  DOI link: https://doi.org/10.1007/s00520-011-1209-6
In March 2010, a study was carried out in Australia to evaluate "the use of Medical Qigong compared with usual care to improve the quality of life of cancer patients". The findings reported that medical Qigong "can improve cancer patients' overall quality of life and mood status and reduce specific side-effects of treatment. It may also produce physical benefits in the long term through reduced inflammation".  DOI link: https://doi.org/10.1093/annonc/mdp479