Self Managing Chronic Pain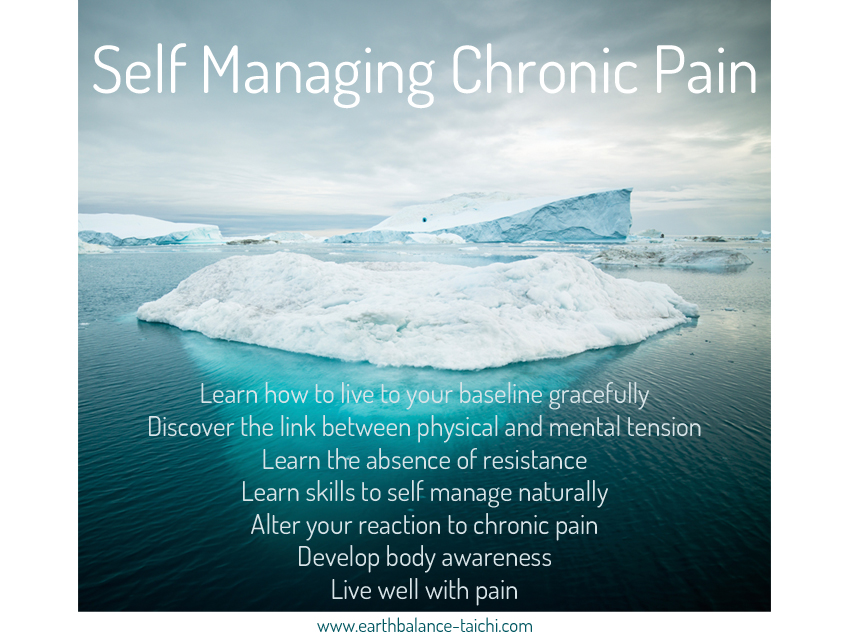 Self Managing Chronic Pain
For those living with chronic pain who would like to be active in their self care management, read over a number of free online resources that aim to naturally help.  Explore gentle and powerful movements for both mind and body.  Tai Chi, Qigong and meditation instructor Nicola lives with Ehlers Danlos Syndrome and understands personally the impact chronic pain and chronic fatigue have on life. These resources come from her 'Hibernating Bear' syllabus of Tai Chi, Qigong and meditation teachings designed to help ease pain levels, decrease fatigue, reframe how you respond to pain, boost happy brain chemicals, improve all functions of the body and release mental and physical tension. All to help you live well with your pain.
Hibernating Bear Syllabus
Baselines & Pacing
Exploring Pain
Movement and stillness for chronic pain

management.

The pain response.
The link between pain and physical tension.
Learn effective techniques to reframe pain.
Mind Body Connection
The absence of resistance, training the mind and body to relax.
Gentle movements and mindfulness exercises.
Healthy distractions.
Nourish through Breath
How to breathe properly and why it is important.

The link between health and breathing.
The link between stress, wellbeing and breathing.
Seated stillness and gentle moving breathing exercises.
Reducing Stress
Posture and Alignment
Detox through Movement
Healthy Joints
Expansion and compression of the joint system for improved health.
The focus on spine health.
Healthy Soft Tissue
Gentle and powerful spiralling movements to promote elasticity.
Learn to lengthen the connective tissue and relax the fascia.
No impact muscle strengthening.
The importance of your psoas muscle.
Relaxing muscular tension.
Awareness
Graceful Mindset
Be Mindful
* Please note that the Taoist practices are not a replacement for conventional medical treatment. Please speak with your doctor prior to starting a new exercise programme. This article is for information purposes only and must not be taken as medical advice. *