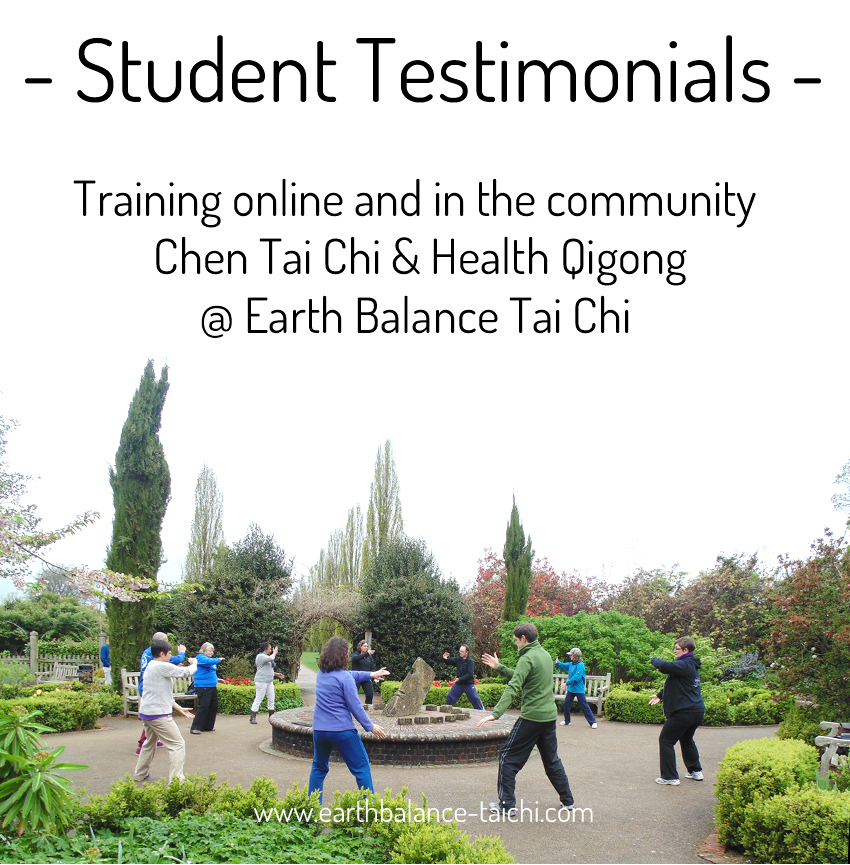 ---
Online Group Live-Stream Female Student, June 2020.
"Nicola was the teacher who introduced me to Qigong & Tai Chi 4 years ago when she lived in Horsham. During lockdown I have discovered her weekly live stream online classes. Nicola is an excellent teacher with a very relaxed, informal, friendly style but she pays a lot of attention to detail & has a very extensive knowledge of Qigong & Tai Chi & the effects on the body. I highly recommend her weekly live stream online classes."
---
Qigong Male Private Student, April 2014
'Travel with Hope' is an interview with 'John Doe', one of Nicola's private students who lives with Parkinson's Disease.
---
Qigong for Women, Horsham, April 2015
"I have been to several of Nicola's classes over the last three years but always look for a Qi Gong for women class as it is my favourite. The class focuses on women's health and well being, with step by step instruction that makes a real difference to the busy lives we lead. I often talk to friends and colleagues about Nicola's classes and welcome an opportunity to recommend her lessons to the wider community. Classes are well structured with progress from week to week but Nicola has a quiet gift for addressing individual needs within the class to build on prior learning and encourage progress. If you are looking for a class that gives you an hour of 'me time' each week ad leaves you feeling positive and calm for the week ahead then I would recommend Qi Gong for women with Nicola."
---
Retired Female Student, Tai Chi, Horsham, July 2014
"I have a happy back, knees, and improved balance for which I am very grateful."
---
Tai Chi, Crawley, April 2014
"I'm really enjoying learning Tai Chi, Nicola gives clear, informative instruction. The classes have a great atmosphere, highly recommended."
---
Fred, Crawley, April 2014
"Having been a pupil of Earth Balance Tai Chi for some two years, I had often thought about one to one lessons. So earlier this year I decided to treat myself.
Truly, the best move I have made in a long time. Working through the movements with the encouragement and undivided attention of Nicola has made a vast difference to my Tai Chi practise. With my posture being corrected, and the moves being explained in great detail, knee alignment (a weak point before) put right not only affected my practise, but my everyday awareness of my physical and mental being. All with Nicola's enthusiasm, support and sparkling good humour.
I have my lessons in a lovely outdoors setting in whatever weather the seasons bring us. So far this year we haven't had to seek the shelter. Consider this:
What would your plumber or electrician charge you for work on your home? What does your car mechanic charge per hour for repairs and M.O.T?
Well, I think I'm worth the fee that I pay for a one to one lesson..
Aren't you?"
---
Rob, Horsham, December 2012
"It's rare you come across someone with the amount of passion for their subject that Nicola has and as a student you can't help but be swept along by her enthusiasm.
In class Nicola's clear explanation of the actions and their purpose demonstrates her experience and insight in the subject. I found her teaching style to be warm and generous nurturing an open and relaxed class.
If you are interested in learning about Qi Gong or Chen Tai Chi then check out her fabulous classes!"
---
Mike, Worthing, December 2012
"After training in Karate for several years I had to stop for personal reasons.  However, I found that after a few years I missed it very much but my attempts to return proved unsuccessful as my previous club was no longer operating.
For several years I had been drawn to Tai Chi but had never pursued this interest so now took the opportunity to research it further.
The integrity and professionalism of the Instructor is very important to me so I did some quite in depth investigation on the internet.  During this search I came across 'Earth Balance Tai Chi', which seemed to fit my particular requirements so I took the opportunity to go along to a tester session.  I wasn't disappointed and signed up for a six week beginner's course.
Nicola's teaching style is quite relaxed and delivered with, clarity and patience and at a pace that allows learning to be reinforced.   Time is taken to explain and demonstrates each move before the students do it themselves.  Nicola also takes time to move amongst the class and adjust students' posture, where necessary.
I am currently coming to the end of my second six week session and would happily recommend any potential students to come and join us.  You will be made very welcome and initial nerves will quickly subside as you train in this fascinating art".
---
Sarah, Worthing, July 2012
"Very enjoyable class, delivered with easy to follow instructions. Nicola is a great teacher and the information she delivers is great! I would recommend this class to young & old. It's given me a new hobby that is good for me.  Thank you for bringing Qi Gong classes to my area".
---
Crawley Tai Chi, June 2012
"My doctor advised me to take up Tai Chi, as he has practiced it.  I like the gentle approach to exercise, and I like that I have to fully concentrate on the movements, so for me it becomes 'a moving mediation', I endeavour to practice 'mindfulness', staying in the moment and this adds to this practice.  Also Nicola is a gentle, non judging, humble tutor, and I benefit from her approach to teaching Tai Chi because this helps me to not be so hard on myself as I learn."
---
Crawley Tai Chi, June 2012
"Tai Chi is something I have always wanted to try and I have not been disappointed.  I enjoy the course very much and find something's, especially the breathing is carried over into my everyday life and helps relieve stress."
---
Horsham Tai Chi, June 2012
"Nicola is an enthusiastic and encouraging instructor who makes every lesson enjoyable and something to really look forward to .  Her explanations of the concepts behind the movements plus the ethos of Tai Chi are clear and very informative. I always leave each class with a sense of having done something very worthwhile for both my mental and physical health".
---
Wendy, Horsham Tai Chi, June 2012
"Nicola runs a weekly beginners class which I have attended. During the sessions she has taught the basic moves in Chen Style 11 Form. As the class progresses we have learnt the meaning behind the moves, why we make them and correct our postures/moves when appropriate. Weather permitting we have practised outside. A good mix of ages and abilities attend this course, and we are all catered for without exception.
Personally I feel fitter physically, but more than that, I feel stronger mentally and relaxed once again. Tai Chi can be practiced anytime you have a moment to think about the moves, and the warm up exercises can be done when I have a free moment or two! The classes are excellent value for money and you can pick up extra classes in Horsham Park or other venues on a drop in basis which is helpful for those who work or have child care to consider. I am very pleased to have begun my journey in the art of Tai Chi."
---
Horsham Tai Chi, March 2012
"My introduction to Tai Chi has been a gradual awakening on all levels to the depth of knowledge incorporated in this art of movement. I am starting to see the benefits physically, and have also found it useful as a form of relaxation.
The balance between providing an informative engaging session and also a friendly accessible atmosphere is what stands out about Nicola's classes. Natural teachers with a passion for their subject are rare , in my opinion.  I think having an instinct for what people can absorb at what stage is not easy.
To me, Tai Chi is a worth considering if you understand that there are no quick miracle cures out there. It raises awareness of the body from quite an early stage,  giving one a sense of self. I was surprised that sticking with it just for a few weeks, you really reap the rewards in terms of a sense of achievement and satisfaction."
---
Horsham Tai Chi and Taoist Meditation, March 2012
"You may not even think that you need something in your life, until you try. These wonderful classes 'found' us and now have given such joy, such learning and such happiness that we can never think of stopping. Those who think they can't have the time, think again…..make time and it WILL work. This has helped us cope and channel stresses in a different way, it has given us new things to learn together and more importantly to share and explore further, and we have only just begun.  What a superb opportunity, and it's on our doorstep, to be grabbed with both hands….I'm so glad we did. THANKYOU!"
---
Health Qi Gong student, Horsham, March 2012
"The classes are fun, relaxing and I always leave feeling I've made progress. Nicola is a good teacher and is always encouraging, positive and let's us work within our capabilities. The classes are an oasis of calm".
---
Patrick Palmer, Dublin, 17 September 2010
"I am pleased to recommend Nicola as a first rate teacher of Tai Chi. I have found her to be well informed, enthusiastic and entertaining. I attended two modules of Nicola's classes and found them most helpful and enjoyable.  They have given me a long lasting interest in the subject."
---
Collette, Dublin, September 2, 2010
"Nicola organised a fantastic weekend of Qi Gong in Dublin earlier this May, she created a great ambiance and learning space for all who attended, Many Thanks"
---
Mary Delahunty, Dublin, September 5, 2010
"Nicola is an enthusiastic and an excellent teacher. Her instructions and explanations are very clear. I felt very comfortable as a student in her class."
---
Dublin, September 5, 2010
"i thoroughly enjoyed my tai chi classes every week with Nicola. The classes were fun to do, challenging and a great way to destress. Tai chi has also helped me to unwind in my daily life when the going gets tough. I would highly recommend you contact Nicola if you are considering learning tai chi."
---