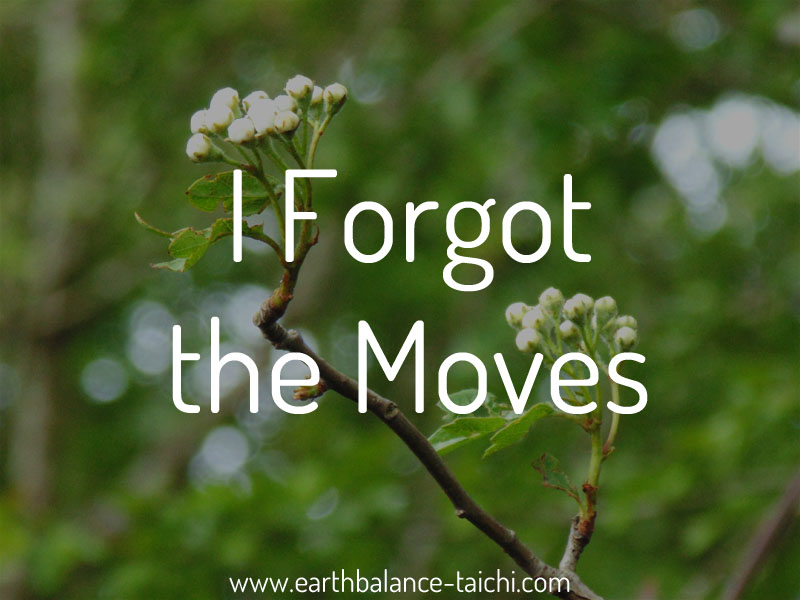 Beginner Tai Chi and Qi Gong students often get hung up on memorising the movements.  This can make Tai Chi and Qi Gong a stressful experience.  Students often report they cannot remember what they have learnt, again and again. This can be frustrating for the student as the mind is resisting something new, and they are outside of their comfort zone.  So what is happening?
Using the Body to Learn
It would be easier if we could leave our brains at the door to the Tai Chi studio.  Our intellect gets in the way which is a hindrance to learning Tai Chi and Qi Gong. Students are looking to find a way to attach their intellect and logical brain to each new movement, rather than learn through the body.  Their brains get confused as it cannot find a way to attach a past experience or association of the movements to memory, and so their minds fight them all the way to try and intellectualize what is being learnt.  The subconscious says "I must find something to relate this to..... there is no way I am going into that body down there, I am the brains here..... oh I haven't a clue, it's too difficult so I'll give up".  As beginners, students are usually stuck in their heads, and it's hard to change how we go about doing things, unless it fits the same groove we are used to.  Our aim is to dampen down the beginner's critical thinking, logical and rational mind that is the left brain.
Beginner students often purely focus on the hand movements, and ignore the body from the chest down, which creates a 'left thinking and seeing brain' practice. Their eyes follow their hand postures, and they become disconnected from the body moving as a unit. True Tai Chi movements must instead come from the core, the lower dantian, which drives the moves and momentum of the limbs and connects us to our second brain, the gut or the 'right feeling brain'. For most of us this is unknown territory, "what do you mean you want us to stop thinking & analysing, that's what we always do".
Tai Chi and Qi Gong are a whole mind and body experience.
Tai Chi and Qi Gong are experiential arts.
Your body has to live them to learn them.
You don't need to think, thoughts and memory are not necessary, you learn from moving.
Avoid hanging on every word of your instructor, listen softly and allow the body to take which parts it needs.
Let your body guide you, it's the best teacher.
Connect with the inner you in your practice, not what others think of you, not what you think people see you as, what upbringing you had, what environmental influences you have or are in, nevertheless of your own or other people's expectations of you.
Don't think, just do.
Let your thoughts come AND go.
Avoid resistance.
Avoid finding cognitive excuses to stop.
Allow the body to take over.
Be observant of the internal body e.g. tension, alignment, breath, posture, expansion, contraction, coiling etc.
Allow your mistakes to come AND go, several, several times.
Know that mistakes are opportunities to improve
Avoid verbalising your mistakes, stop the left brain!
There is always more to learn.
Relax
Relax more
Practice
Practice more
Review..... review.... review
Read the difference between how Eastern and Western Cultures tackle learning
Tai Chi and Qi Gong are complex. There is no route to quick learning and no shortcuts to take.  It's not possible to learn through intellectualising the moves, you need to move the body, again and again. There is no perfection to aim for, ask one of the Grandmasters who has been practicing for over 60 years who they are still working on their form.  There are many layers to unfold and practice, this all takes diligence, time and patience. There is no rush. Your Tai Chi and Qi Gong practice should be an enjoyable, rejuvenating and meditative experience.  The journey is endless, we don't worry about reaching the mountain summit as the journey is much more fun.
Notes
1 hour per week in class is minimal training
It would be unrealistic to expect great speed of progress with 1 hour of training per week
Practice diligently at home and don't be afraid of making errors
Practice regularly, ideally daily, even for a few minutes
When you come home from class, practice then to cement what you learnt during the class
Avoid getting caught up on the details, go for flow
Relax more
Practice more
ENJOY YOUR PRACTICE!