Qigong for Parkinsons Disease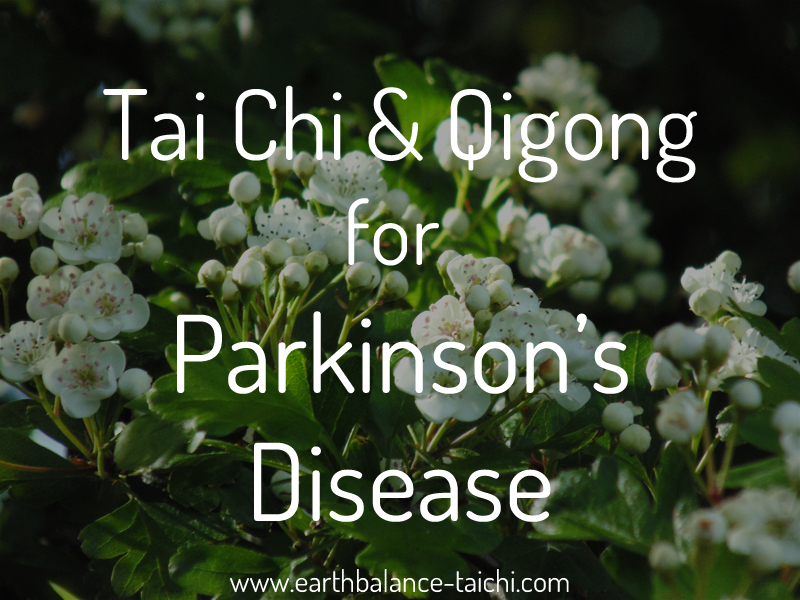 Qigong for Parkinsons Disease
Parkinson's disease is a nervous system disorder where the nerve cells found within the brain that produce the chemical called dopamine start to die off. This leads to the many symptoms of Parkinson's disease.
Main Symptoms
Tremors
Slowness of movement
Rigid body / rigid movement
Bladder and bowel problems
Swallowing and saliva control
Freezing, falls and stumbles
Dizziness
Speech and communication problems
Eye problems
Skin, sweating, scalp conditions
Muscular skeletal pain
Teaching students with Parkinson's Disease (PD).
I have taught a number of students who live with PD, at varying levels of advancement.  I have seen first hand how regular practice of either Tai Chi or Qigong has helped improve their quality of life through; stability, posture correction, reduction in physical tension, improved motor skills, coordination, balance and body awareness. Not to mention the reduction in stress, anxiety and frustration that comes with degenerative health. Through patience, acceptance and compassion my students have used Qigong and Tai chi to help ease the symptoms of PD. The all round benefits can be profound, and every small success with movement and posture has a positive affect on their daily life. I am humbled by their diligence and commitment of Tai Chi and Qigong through their daily struggles.
---
This excerpt is from 'Travel with Hope', a Parkinson's Disease interview with one of my Qigong students.
"What would be the message that you would like to give to others with Parkinsons?
It would be one of hope. I remember when I was diagnosed I met a very nice neurologist who is an outstanding person as well as an outstanding doctor. I was leaving his office after our first meeting and you know it was a difficult meeting as he was confirming my diagnosis of PD and I was still coming to terms with it and, as we left his office he turned to me and said "My one message I would give to you is to travel with hope". And that would be a key message I would give to anybody who has been recently diagnosed with PD. There are improvements in Western Medicine that will make a dramatic difference, but there are other things you can do that can make a profound difference to how the condition affects you on a day-to-day basis.  It's not the end of the world and you can have a very good quality of life."
---
How Qigong and Tai Chi can help
Tai Chi and Qigong help to provide students with much needed tools that aid their self-care programme. These tools are a natural and healthy way to aid the symptoms of, and cope with degenerative health. From the sophisticated physical movements that work deeply within the body, through to the deep breathing mindfulness. The movements help to train the physical body to be strong, supportive and connected. Tai Chi and Qigong training can help students to manage the psychological impact of living with PD. Bringing back a level of control whilst improving quality of life around a changing baseline.
Improved balance and co-ordination
Improve motor function
Develop a more aligned posture
Increased body awareness and proprioception
Improve walking/gait
Improve range of motion
Increase muscular strength in the legs, torso and arms
Increase mobility and flexibility
Helps to level the emotions and balance the hormones
Slow down the central nervous system
Release chronic muscular contraction
Nourish and mobilise the connective tissue: fascia, sinews, tendons, ligaments
Lessen mental tension
Calm the mind
Improve clarity and clear thinking
Helps improve sleep
Aids the symptoms of anxiety and depression
---
Further Resources
"TC is an exercise intervention modality supported by the National Parkinson Foundation of the United States and Parkinson Disease Society in Canada [68]. The effectiveness of TC in delaying the negative clinical consequences of PD has been verified repeatedly."
A Review Focused on the Psychological Effectiveness of Tai Chi on Different Populations by Long Zhang, Charles Layne, Thomas Lowder and Jian Liu. Visit www.hindawi.com/journals/ecam/2012/678107/
---
"Tai chi appears to be effective as a stand-alone behavioral intervention designed to improve postural stability and functional ability in people with Parkinson's disease."
Tai Chi and Postural Stability in Patients with Parkinson's Disease. By Fuzhong Li, Ph.D., Peter Harmer, Ph.D., M.P.H., Kathleen Fitzgerald, M.D., Elizabeth Eckstrom, M.D., M.P.H., Ronald Stock, M.D., Johnny Galver, P.T., Gianni Maddalozzo, Ph.D., and Sara S. Batya, M.D.  Visit www.nejm.org/doi/full/10.1056/NEJMoa1107911
---
"Tai chi training appears to reduce balance impairments in patients with mild-to-moderate Parkinson's disease, with additional benefits of improved functional capacity and reduced falls."
Tai chi and postural stability in patients with Parkinson's disease. By Li F, Harmer P, Fitzgerald K, Eckstrom E, Stock R, Galver J, Maddalozzo G, Batya SS. Visit www.ncbi.nlm.nih.gov
---
"After six months, patients in the tai chi group performed better on a number of measures related to strength, movement control, balance, stride length and reach. Resistance training also offered some benefits, and both the tai chi and resistance training groups had fewer falls than the stretching group."
Tai Chi Benefits Patients With Parkinson's by Tara Parker-Pope. Visit www.well.blogs.nytimes.com/2012/02/09/tai-chi-benefits-patients-with-parkinsons/
---
Parkinsons Recovery: Itunes on 6/6/2012 Qigong for Parkinsons
---
* Please note that the Taoist practices are not a replacement for conventional medical treatment. Please speak with your doctor prior to starting a new exercise programme. This article is for information purposes only and must not be taken as medical advice. *