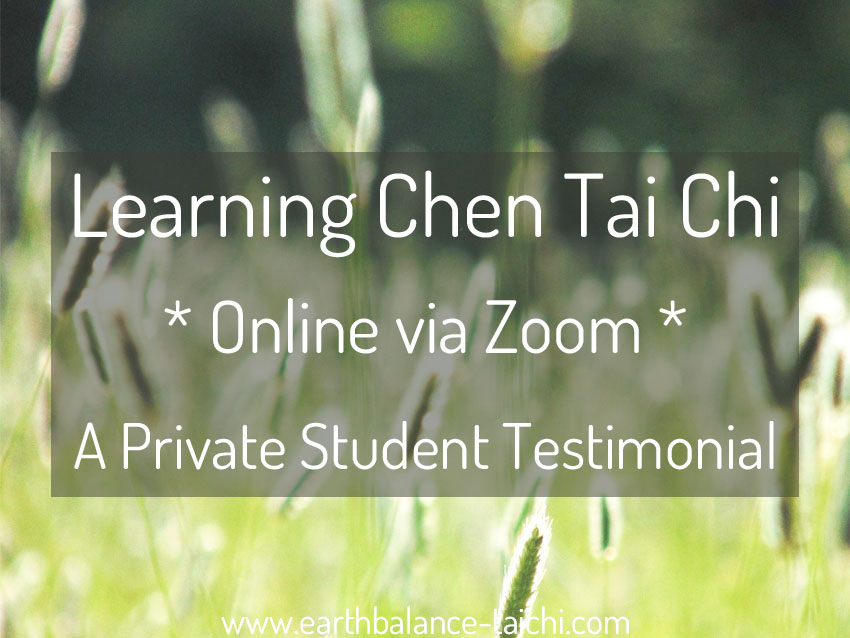 Online Tai Chi Review
A student shares their testimonial of learning Chen Tai Chi online via Zoom with instructor Nicola of Earth Balance Tai Chi.
---
Dated July 2019
"Tai Chi and Qigong are wonderful teachings. They are truly accessible to all. No matter age, physically ability or fitness, you can improve your health.  You can approach these exercises casually or embrace them wholeheartedly. It is up to you what you want from them."
"As a teacher Nicola is exceptional in helping you achieve your goals, no matter how small or large they may be. Her depth of knowledge about Tai Chi, Qigong, the body and its needs is incredible and only matched by her passion for helping people achieve their personal goals. She encourages your progress, mentors your practise and celebrates your achievements alongside you. Nicola's coaching of Tai Chi and body health is an absolute blessing to me as my life ebbs and flows around the stresses of work, home, health and family. What Nicola brings is an innate wisdom that supports you in the round (mental, emotional and physical) even as you practise connecting with your body through the elegant Tai Chi and Qigong forms."
"Having the ability to work with Nicola through her online one to one and group sessions is a real gift. It is so easy to connect and start your practise from the comfort of your living room with Nicola supporting you the whole way."
---
Teacher Notes
This testimonial is written by one of my online Chen Tai Chi and health Qigong students. She studied with me previously in 2015 in my community classes in Horsham covering the Chen foundations and the Chen four corners. From September 2018, we have been meeting online every few weeks using Zoom video conferencing. Over the last months I have been amazed at how far we have been able to go, as both a student and teacher in a purely online environment. Per the student's request, we spent an extended amount of time working on the foundations, covering posture, alignment and the traditional Chen principles, before starting on the Tai Chi form.
Through the journey, there has been a sprinkling of Qigong movements as a supplement to flexibility, relaxation and strength training. Every lesson has been adapted to the student's needs, with a responsive and flexible style of teaching. I encourage my students to approach their studies from a Taoist viewpoint, using kindness, grace, modesty and non-judgement. By practising these traits through movement, we can help reinforce them in our daily lives. I also encourage my students to work with their baselines and place a lot of importance on exploring this concept. In this type of one on one lesson, it has given us the freedom to work to our own plan through ebb and flow.
After each lesson, I have passed on notes, homework, optional homework, videos, links and other resources to help assist her journey and prepare her for the next lesson. My approach is to encourage self-led learning as this is the most effective and rewarding method. Chen Tai Chi is a complex and difficult movement art to digest and perform, and I am pleased to say that this student is taking it all in her stride. This is real gong fu and a true expression of a life-long Taoist practice.