February Taiji Push Hands Seminar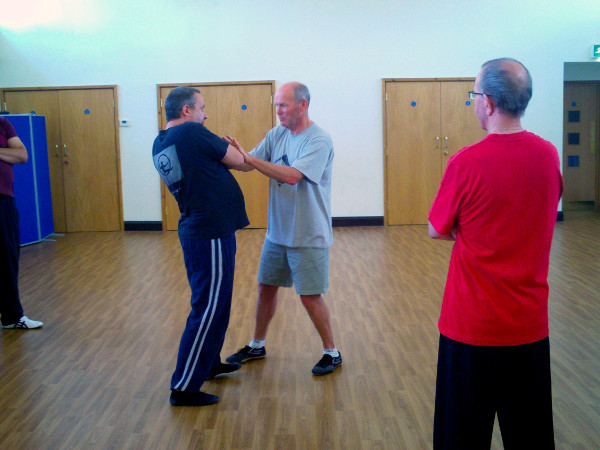 February Taiji Push Hands Seminar
Our friend Mat Ward of Inner Harmony School will be returning to Horsham in February 2014 for the second workshop focusing on Tai Chi partner work, push hands, sensitivity training, throwing away our hard strength and learning to yield. Join us for an afternoon of Tai Chi exploration, self discovery and in-depth learning. Three hours of much fun ahead!
---
SONG OF PUSH HANDS
Be conscientious in Peng, Lu, Chi, and An.
Upper and lower coordinate,
and the opponent finds it difficult to penetrate.
Let the opponent attack with great force;
use four ounces to deflect a thousand pounds.
Attract to emptiness and discharge;
Zhan, Lian, Nian, Sui,
no resisting no letting go.
By Unknown Author, as researched by Lee N. Scheele
---
Seminar: Tai Chi Partner Work, Push Hands, Applications, Posture Testing.

Instructor: Mat Ward of Inner Harmony School
Level: Open to all Chen style Tai Chi students who have reasonable experience of the first five movements of the form;
Opening Posture
Buddha's Warrior Attendant Pounds Mortar
Lazy Tying Coat
Six Sealing Four Closing
Single Whip
Date: Saturday 22nd February 2014
Time: 2pm - 5pm
Advance Fee: £25 (cash or bank transfer - due 1 week before)
On the Day Fee: £30 cash only
Venue/Map/Parking: Unitarian Church Hall, Worthing Road, Horsham, RH12 1SL
Terms: By booking onto this workshop, you are in agreement with the terms and conditions. Please read over these to ensure you are familiar with our booking, payment and cancellation policies.