Tai Chi for All Abilities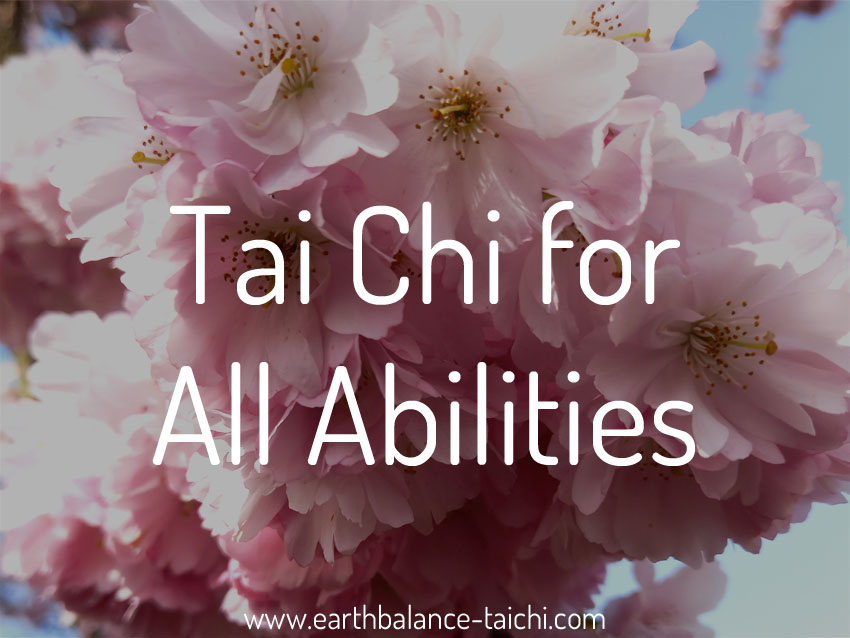 Tai Chi for All Abilities
Our aim at Earth Balance Tai Chi is to create classes that are accessible across the whole community.  We provide Tai Chi and Qigong for all abilities, meaning seated and chair based for those with restricted movement / mobility whether through disability, age, disease, injury or for rehabilitation. Find out more about the meaning of qi gong.
Your instructor Nicola says  "As someone who lives with Ehlers Danlos, a genetic defect which has a number of joint, connective tissue and vascular based effects on the body, I understand the importance of life-long mobility and movement. Personally I live as gracefully as possible, not exploiting or hiding my 'baseline', my body simply works differently than the average.  Instead I work with my mind and body gently and patiently for a better quality of life. Tai Chi and Qigong give me greater hope, strength, calm, release, awareness, posture, mobility and character, they help me sustain myself as me.
I believe these traditional Chinese exercises should be for all abilities, ages and fitness levels. I celebrate Tai Chi and Qigong for everyone, whatever their individual reason for joining or goal is, all are welcome.  Some people may be looking for stress-relief, some the martial arts discipline, some to strengthen the core and limbs, some to aid recovery from illness, to enhance immune function, some to aid injury, some looking for a spiritual practice and some for simple exercise and movement.
Chair based classes provide students who wouldn't usually be able to attend a class that is standing/walking, with the chance to try out and benefit from regular and authentic Tai Chi and Qigong practice.  And this can all be done in your own home.  Teaching you how to create mental balance and physical ease at the right pace you can sustain for the rest of your life. How wonderful is that!"
Live Online Seated Tuition
This type of Tai Chi and Qigong class offers simple healthy movements for those wish to learn the Classical Chinese arts whilst seated in their own home.  Any of our online lessons can be modified from the standing, walking syllabus to accommodate a seated position.
Suggested Equipment: A dining room chair without arms or a stability ball.
Your Location: UK and Europe.
Group Live-Stream Classes
Join our 'Hibernating Bear' Tai Chi and Qigong classes for an hour of mindful, powerful and energising movements. These are open to all abilities, whether seated, using the back of a chair for stability, standing or a mixture of all three. Learn gentle energising movements to relieve tension and reduce fatigue.
Your Location: UK and Europe.
---
* Please note that the Taoist practices are not a replacement for conventional medical treatment. Please speak with your doctor prior to starting a new exercise programme. This article is for information purposes only and must not be taken as medical advice. *